Fatih Yağmur - Winner of EU Award for Investigative Journalism in Turkey
Independent jury awards top prize to Radikal's Fatih Yağmur for his exposé of  gun and munitions running to Syria by national intelligence.
Second place award goes to story that exposed the astronomical cost of a car assigned to the head of Turkey's Religious Affairs Directorate. Report showing officials lied that four people shot dead following a fatal attack on two police were the cops' killers wins third place.
Three journalists were honoured on Monday 29 June  at the ceremony to present the EU Awards for Investigative Journalism.  The award scheme was sponsored by the European Union in conjunction with the South-East European Network for Professionalization of Media (SEENPM).  The prize for Turkey was organised by the platform for independent journalistm, Punto24 (P24), a SEENPM member.
The ceremony took place in Cezayir Restaurant in Istanbul's Beyoğlu district and was well attended by journalists, representatives of various media organizations, diplomats and academics.
P24's Yavuz Baydar and Andrew Finkel introduced the event. 
In their opening remarks Baydar and Finkel emphasized the value of an award scheme that encouraged media independence in Turkey at a time when journalism was under great pressure. "There will always be journalists who fight for the integrity of their profession and whose conscience and professional instincts make them to do the right thing, regardless of personal cost," Baydar said. "All too often brave and courageous journalists in Turkey are punished. Tonight they are being rewarded," Finkel noted.  
P24 Honorary President Hasan Cemal, who also spoke at the event, said: "Over the past years, a nightmarish dark cloud has been cast over our professor. There were attempts to set up an Erdoğan regime which tried to undermine newsmaking – the core of journalism – and trying to destroy independent and free journalism. This negative, dark chapter started dissolving with the June 7 elections. These awards given here tonight are a clear indicator that free and independent journalism cannot be stopped."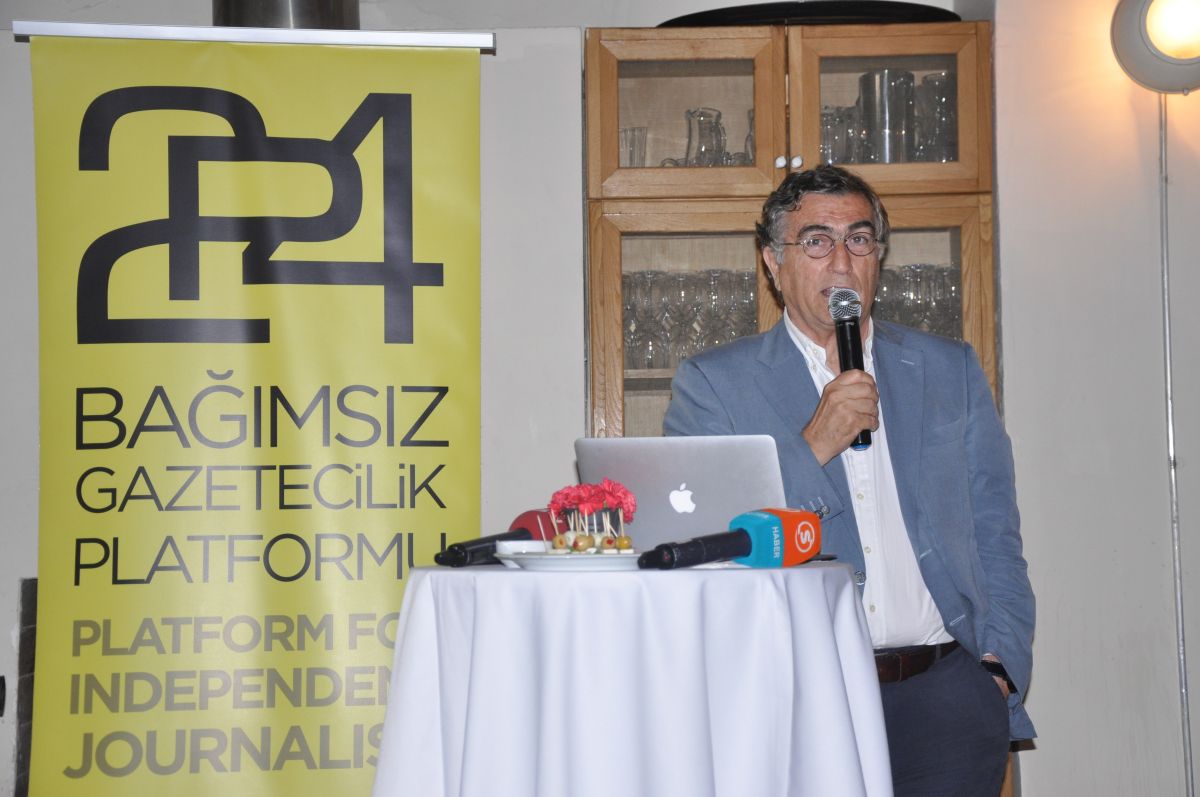 PHOTO: P24 Honorary President Hasan Cemal
And this year's winners are…
The independent jury, chaired by Professor Yasemin İnceoğlu and comprising Professor Arzu Kihtir, Tuğrul Eryılmaz, Hasan Cemal and Cengiz Çandar, chose Fatih Yağmur's story titled "Tır Tutanağı" (Trailer truck logs), published in the Radikal daily on  January 3, 2014 as the Best Investigative Report of 2014. 
The jury stated that the subject of Yağmur's story, "is highly relevant," and further noted: "It broke as an exclusive story when it first came out in 2014, and the subject matter – trucks laden with weapons en route to Syria owned by the country's national intelligence agency – continues to have repercussions. The story is the product of pure investigative journalism at the highest international standards."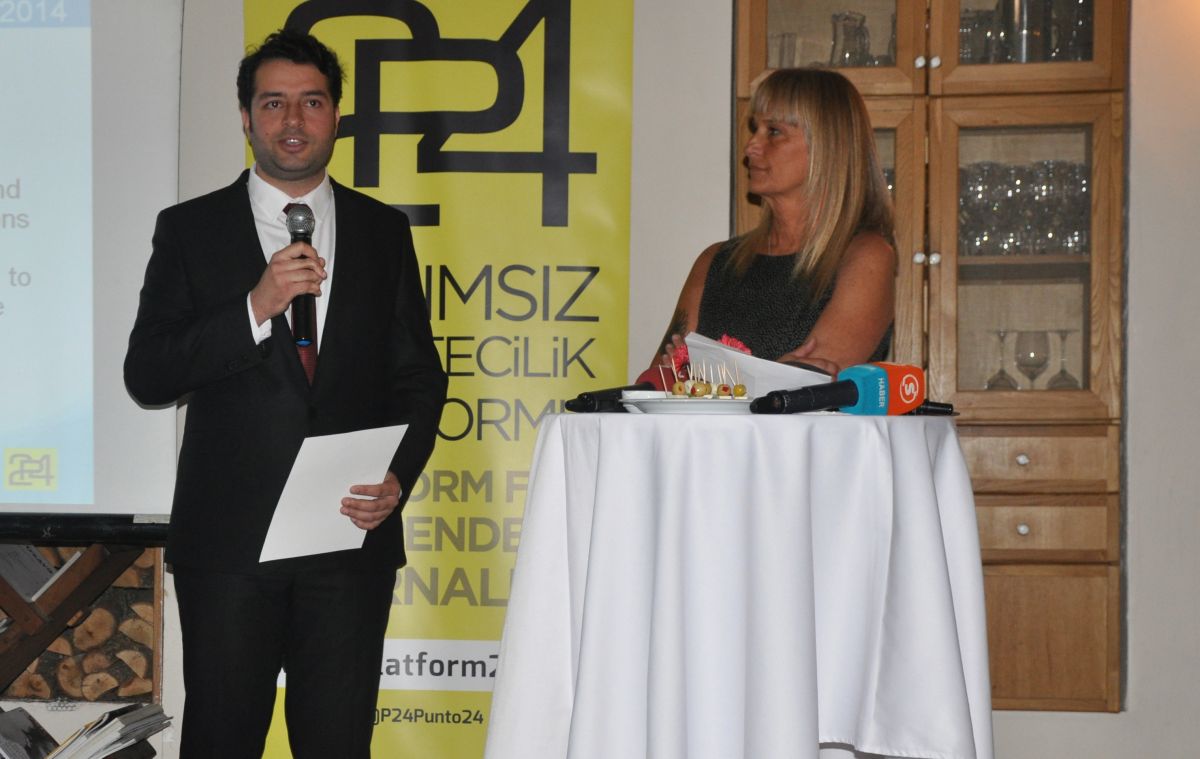 PHOTO: First Prize winner Fatih 

Yağmur 

with head of jury Yasemin İnceoglu
In January 2014, lice stopped Syria-bound trucks in Adana, which were found to be loaded with weapons with the prosecutor, who examined the trucks suspecting that they were being sent to armed groups in Syria. The government initially denied that the trucks were loaded with weapons, however, had to admit that there were indeed munitions on the trucks when, later this year, photographs showing the content of the trucks were published in the media. 
Yağmur received his award from Head of Jury Yasemin İnceoğlu. 
Nurettin Kurt received the Second Best Investigative Report of 2014 award his report entitled "Official car (for Religious Affairs Directorate president) cost TL1 Million," published in Hürriyet on Dec. 13, 2014. 
This story exposed the  astronomical cost of  a luxury automobile assigned by the government to the head of Turkey's Religious Affairs Directorate Mehmet Görmez. 
Tuğrul Eryılmaz, who presented Kurt with his award, made a brief statement, calling on journalists to drop their political aims if they harbour such ambitions and unite against oppression.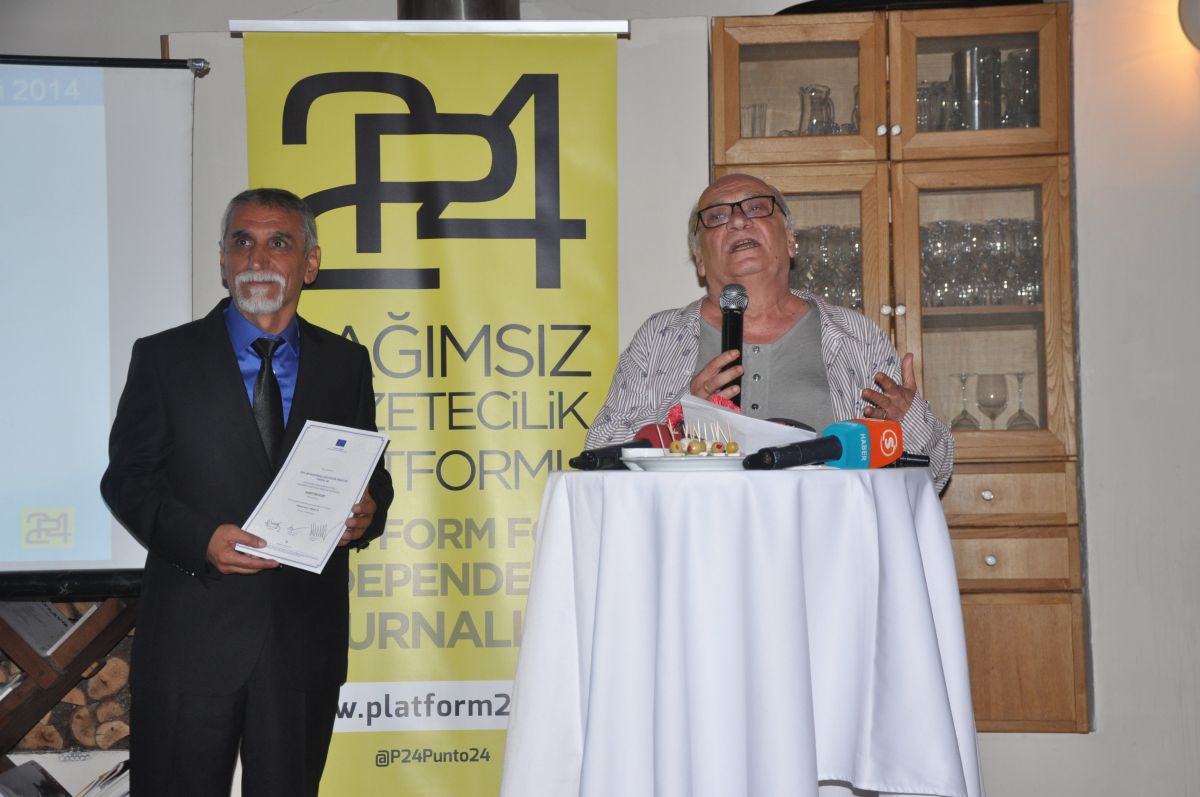 PHOTO: Second Prize Winner Nurettin Kurt and Jury Member Tugrul Eryilmaz
The jury's rationale behind its decision was that the story's "content has a unique value in terms of public debate. The concerned official returned the vehicle allocated for his use following public discussion brought about by this report." 
Third place for the Best Investigative Report of 2014 went to Tahir Alperen for his report titled "Bullets that killed two police not fired from weapons belonging to four people shot dead," published on t24.com.tr on Nov. 4, 2014. 
Two police officers were killed in an in October 2014 during demonstrations. Shortly after the incident, security forces chased and killed, during a shoot out, four alleged Kurdistan Workers' Party (PKK) militants who were travelling inside a car. Alperen's report refuted officials' claims that the four suspects were related to the police killings. 
Alperen receieved his award from jury member Arzu Kihtir.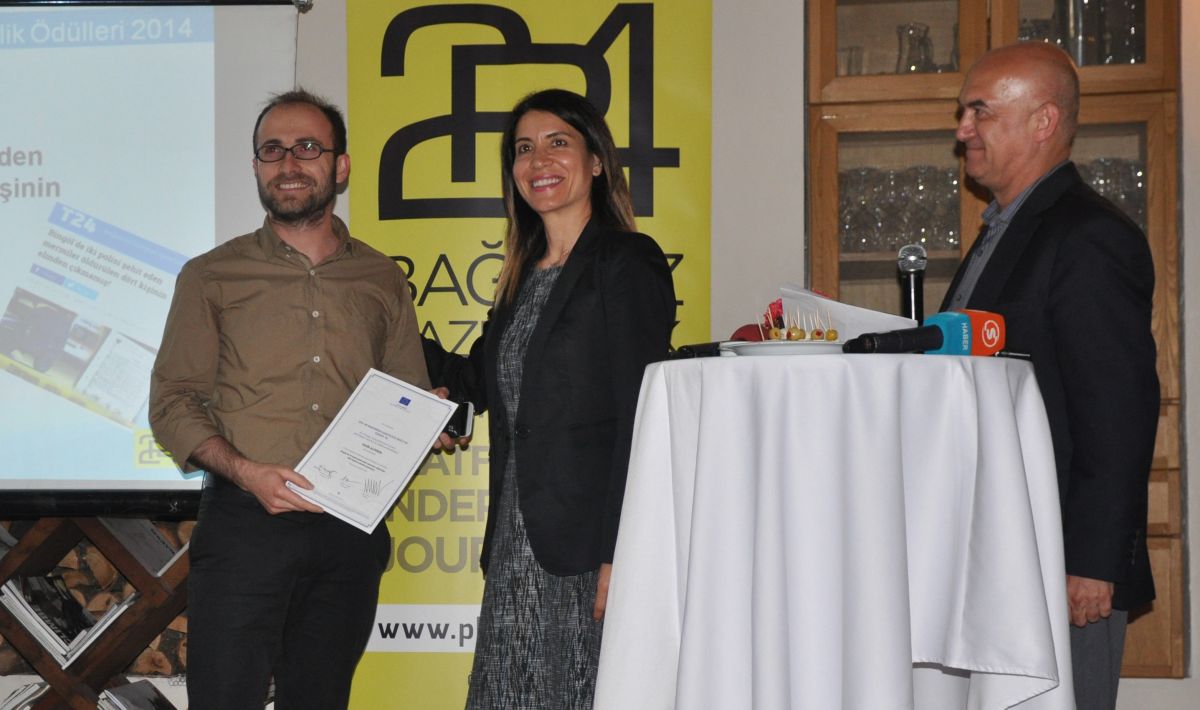 PHOTO: Third Prize winner Tahir Alperen , Jury Member Arzu Kihtir and P24s Yavuz Baydar
"This story certainly deserves a prize as its writer has gotten hold of documents that will likely change the course of a criminal investigation regarding the murder of two police officers," the jury stated in its rationale.  
Andreea Schmidt, the EU Delegation's Second Secretary, Deputy Head of Section, Political Affairs, Press & Information 
attended the event representing the EU Delegation and also delivered a speech reiterating the EU's commitment to supporting freedom of the press  in Turkey.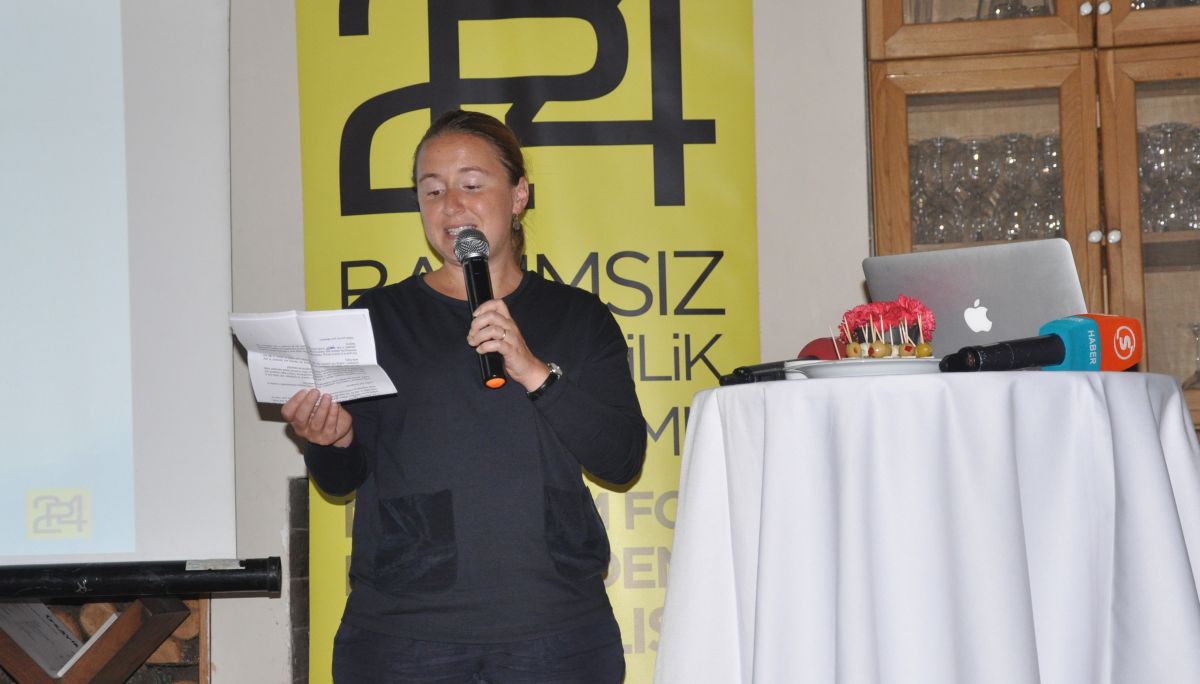 PHOTO: Andrea Schmidt's speech at the award ceremony
About the EU Instigative Journalism Award
The EU award for investigative journalism is to be given each year for an initial three years in each of seven EU-Enlargement countries: Albania, Bosnia and Herzegovina, Kosovo, Macedonia, Montenegro, Serbia and Turkey, rewarding investigative journalistic work published in 2014, 2015 and 2016.
Investigative stories contributing to transparency and reporting on societal issues related to abuse of power and fundamental rights, corruption and organised crime that otherwise would not have been brought to the public's attention will qualify for the award.
The total award fund for the seven beneficiary countries for three years is 210,000 euros in total. The annual award fund for each country is 10,000 euro to be divided among the 1-3 prize winners at the jury's discretion with 
3000- 5000 euro per individual prize. 
In cooperation with The Guardian Foundation, the best investigative story in the region will be selected from the winners of the seven country contests. The author will be invited for a study visit to The Guardian/Observer.
About Punto24 
Punto24 or P24  is a Turkish-registered, not-for-profit, civil society organization which counts as its founders some of the most experience journalists working in the Turkish press. It has been started with a broad mission to build capacity in the Turkish media, create a public appetite for media independence and to define and promote best journalistic practice. 
Read also an editorial about EU Awards in Turkey written by 
Andrew Finkel 
and published on June 30, on P24's website.