Behind the foreign investments in the Slovenian media market
The article is originally published by SEENPM network,
here
.
Slovenia's small media market, which is highly concentrated in its TV segment and has repelled rather than attracted foreign investment in the past decade, has recently experienced two seemingly strategic investments by Hungarian and US companies. These are potentially motivated by political and geopolitical interests.
Hungarian investments in the party media in Slovenia
The Slovenian media company
Nova24TV.si
received a 800,000 Euro financial injection from three Hungarian media companies in March 2017. Modern Media Group, Ridikul Magazin and Ripost now collectively own 45% of the company.
Nova24TV was established in 2015 as a political project – it was founded by 70 stakeholders that came predominantly from the ranks of the right-wing Slovenian Democratic Party (SDS), including its members, supporters, and 14 out of its 21 parliament members. The media company, whose slogan is "first in the service of truth", has vowed to provide an alternative perspective that reflects the values of the European right.
The Hungarian companies which now own the majority share are nominally independent from each other, yet have a number of things in common: all are owned by men close to Hungarian Prime Minister Viktor Orbán and his party Fidesz, all have sprouted up in the aftermath of the party's thorough suppression of independent media, and all publish content that clearly aligns with Orbán's message while vilifying the opposition.
For example, Modern Media Group (MMG) was founded in 2015 by Orbán's chief advisor and "favourite spin doctor" Arpad Habony, while his business partner Tibor Győri used to be the Prime Minister's undersecretary.
The online tabloid Ripost is also considered a political project of the Fidesz party, with an editorial policy based on recycling news from other media outlets in Orbán's orbit, especially MMG, and riveting updates on Orbán himself, whether he is visiting a football match with his son, enjoying the visit of his one-year-old grandson or making "important" and "difficult" decisions as a politician.
Furthermore, as uncovered by the Slovenian weekly news magazine Mladina, all three companies were represented by Peter Schatz (formally only the owner of Ripost) in the share subscription process, while the 800,000 Euro was provided by a certain Károly Varga, a Hungarian construction mogul with close ties to Orbán.
With such an overlapping cast of characters and interests, why use three nominally independent companies at all? Why all the acrobatics?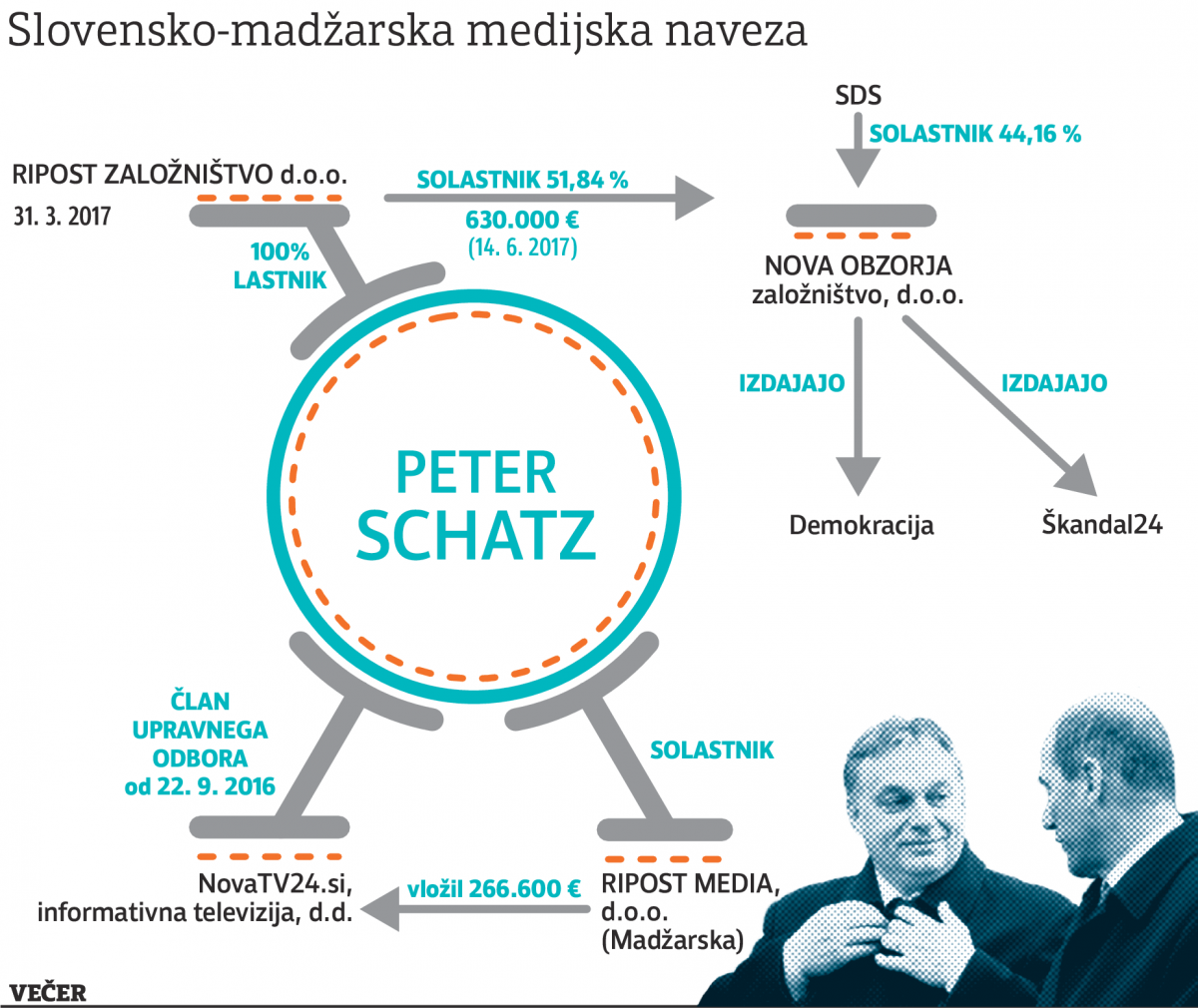 A chart on ownership gained in the media connected to the main opposition party SDS in Slovenia and former PM Jansa by Peter Schatz, Hungarian media owner connected to the Hungarian ruling party Fidesz and PM Orban. (Source: Večer, Maribor, 8.9.2017)
With the 45% ownership spread evenly over three companies, this manoeuvre deftly sidestepped the Slovenian Mass Media Act, according to which the acquisition of over 20% of a media company requires the consent of the Ministry of Culture. This would have led to close scrutiny of the ownership structure of the three companies and the source of their financial backing. At the same time Nova24TV would have had to reveal the owners of all its shares, around 35% of which are still unaccounted for.
While on the subject of legal restrictions – Article 21 of the Political Parties Act clearly prohibits Slovenian political parties from receiving financial funding from foreign individuals or companies. Why such foreign influence is illegal and unwanted in Slovenia is clear. What is less clear are the motivations behind Orbán's proxies' costly investments.
SDS is led by Janez Janša, who was Prime Minister of Slovenia between 2004 and 2008 and for a second time between 2012 and 2013, when accusations of corruption sparked a series of public protests that resulted in the fall of the government. In the current government SDS is the main opposition party, with 21 of the 90 seats in parliament, and is currently leading the opinion polls with over 13% of projected votes and a 5,8% lead over other parties.
Janša and Orbán enjoy a close political relationship and share the ideological project of pan-European right-wing populism, but Orbán's forays into Slovenian media are far more tactical than that. "Orbán needs reliable partners within the EU and the European People's Party (EPP). He clearly thinks that Janša, who is currently leading in the polls, will be the next prime minister, enabling him to reap political rewards for his investment into Janša's media. Finally, Orbán is trying to export his own model of political propaganda as a franchise. A franchise of manipulation, spreading of fear, incitement to hatred. In this sense Slovenia is the guinea pig." (Borut Mekina,
Mladina
, 4.8.2017)
The tale of Hungarian interests in Slovenian party media does not end here. Peter Schatz, the founder and owner of Ripost, seems especially enamoured with the Slovenian media scene. After representing all three (formally independent) companies in the subscription of Nova24TV shares in March 2017 he joined the board of the company as the only foreigner.
In July 2017 his company Ripost went on to acquire a nearly 52% share in the Slovenian publishing house Nova Obzorja (New Horizons) for 630,000 Euro. The publishing house is the home of Demokracija, the weekly newspaper which has served as the main mouthpiece of the SDS party since its beginnings in 1990s. This leaves Nova Obzorja with the following ownership structure: 51.84% owned by Ripost, 44% owned by the SDS party, and 4% by Dejan Kaloh, owner of the SDS-friendly portal Politikis.
By August 2017, strengthened by the financial contribution of Ripost, Nova Obzorja announced the launch of a new free weekly tabloid, Škandal24. Its first issue is slated for the beginning of September 2017, right on cue to prepare the terrain for influencing public opinion in the nearing 2017 presidential elections and the 2018 parliamentary elections.
As grimly noted by Slovenian media commentator Prof. Boris Vezjak, "media has been politicized in terms of ownership, staff and content" (
Vezjak.com
, 27.8.2017). An even clearer condemnation comes from Borut Mekina of Mladina who wrote that "the Janša-Orban pact is no longer merely a harmless political coalition, but a matter of 'selling' Slovenian political parties to a foreign ruler. SDS and Janša are now greatly indebted to Orbán" (
Mladina
, 4.8.2017).
Regional expansion of the US investment fund reaching the TV market in Slovenia
Apart from the Hungarian investments, there is another major twist that the Slovenian media market is experiencing at the moment. In July 2017 the Dutch-Serbian company United Group, owned in turn by the American investment firm KKR and the European Bank for Reconstruction and Development (EBRD), invested 230 million Euro in buying the Time Warner owned
Central European Media Enterprise
(CME) portfolio for Slovenia and Croatia, which includes the Slovenian media company
PRO PLUS
, home to a number of Slovenia's most popular commercial TV channels, including its flagship channel POP TV.
The Chairman of
KKR Global Institute
and former CIA director David Petraeus visited Slovenia in May of this year and met with Prime Minister Miro Cerar and Financial Minister Mateja Vraničar Erman. According to Petraeus, KKR, which through United Group already owns Slovenia's cable and mobile operator Telemach, was interested in Slovenia due to its economic potential and promising future as an investment destination.
Media expert Marko Milosavljević
noted
that the acquisition of PRO plus by United Group, which is yet to be approved by the relevant regulatory bodies, is "probably the biggest and most important merger of the kind in the Slovenian media space since independence" and that "such a conglomerate can influence the advertising market, subscribers and providers on at least ten relevant markets" (
The Slovenia Times
, 10.7.2017).
This is only the latest in a long series of acquisitions by United Group since it was bought by KKR in 2014. Since then United Group has become the leading telecommunications company in Southeast Europe, combining cable TV, broadband, telephone and mobile companies. Through its member companies United Group has 1.89 million customers across all six markets of former Yugoslavia – Serbia, Slovenia, Bosnia and Herzegovina, Montenegro, Croatia and Macedonia –  with a combined population of over 20 million.
The growing presence of United Group and other global media conglomerates in the region makes it increasingly difficult for domestic media, bound to unstable local economic and political conditions, to compete in the market (See Bojan Vučićević,
SEE Media Observatory
, 29.6.2106).
Indeed, United Group has already used its economic and political clout to change media laws in Serbia, successfully lobbying in Brussels and Belgrade for an amendment that enables cable operators to create their own content and favour their own channels over others. (Bojana Barlovac, SEE Media Observatory, 8.12.2014) As a result United Group's channel N1, a regional affiliate of CNN, has started broadcasting across the region in October 2014, three years after Al Jazeera entered the Balkans as the first global media player. That same month Russian international news agency Rossiya Segodnya launched Sputnik, an online news and radio broadcast service that was to broadcast in 30 languages and in 34 countries and which launched in Serbia in January 2015.
These shifts happen at a time when economic and political instabilities in the region once again open up the Balkans as a geopolitical free-for-all, with opposing external powers vying for influence.
Business or (geo)politics?
Slovenia seemed less exposed to confrontations of foreign powers in media and politics, taking into account its small media market and politics markedly framed by the commitment to the early gained EU membership. Although the recent foreign investments in the Slovenian media could be seen simply as international or regional business undertakings motivated by profit-seeking, they could also indicate that the country and its media system are becoming a playground of external political and geopolitical influences.
On one side Orban's influence is spilling across Hungary's borders with the exporting of his model of media and politics. On the other, the growing American-owned media and telecommunication conglomerate United Group is systematically expanding its operations and influence in the region, challenging national media regulations and coinciding with increasing geopolitical power games in the Balkans and wider Europe.
---
This article was written as part of an internship at the Peace Institute Ljubljana in September 2017, with the mentorship of Brankica Petković.
The chart in the text was originally published by Večer, Maribor, 8.9.2017.
Media Integrity
Media Ownership and Finances