Big Advertisers Subvert Albanian Media Freedom

The Albanian media faces a battle to defend its independence in an environment where corporate and government advertising effectively dictates the rules.
The first article by Besar Likmeta produced as a result of investigative journalism grants awarded by the project SEE Media Observatory via open call in August 2013.
On July 8, 2010 former British Prime Minister Tony Blair's wife, Cherie Booth, touched down in Tirana in a private jet to cut the red ribbon for a new TV Station, guest of Albanian oil tycoon Rezart Taci.
Taci had bought Alsat TV six months earlier, but was now in a bind following allegations of corruption and charges of assault, relating to accusations of beating up a journalist in a bar.
Cherie Booth's endorsement provided a good opportunity for the multi-millionaire to brush up his image.
Taci described her visit as "priceless" and even dubbed Booth the "godmother" of the broadcaster.
A high-profile judge and human rights lawyer, Booth participated in the ceremony, underlining the importance of a free and independent media in a democratic society.
Three years on, Alsat TV, which was later renamed Albania Screen, is bankrupt, however, and the fortune of the oil tycoon has dwindled.
Some of the reporters that Booth met that day are now fighting Taci in court, after being laid-off following months in which they received no salaries and after the company failed to pay their social security contributions.
Alsat TV's case is not unusual in Albania, where dozens of media outlets are owned by tycoons or MPs who use them to advance their businesses and political careers.
The journalists who work for them find themselves squeezed between a rock and hard place by political interests and financial pressures - in a market that is too poor and overcrowded to sustain so many independent outlets.
Most Albanian media are dependent on big corporate advertisers as their main source of revenue and internal emails show that they can easily skew editorial policy.
Government-sponsored ads are also an important source of income.
Data collected by Balkan Insight show that the bulk of state advertising has not gone TV stations with better ratings but to those who supported its policies.
All work and little pay:
Albania was ranked in 102nd place out of 173 countries in the Reporters without Borders "Freedom of the Press Index" for 2013.
This represents a marked drop since 2003, when Albania was ranked in 34th place and was the best performer in the Western Balkans.
The country of only 2.8 million supports 25 daily newspapers, more than 100 TV channels, 36 monthly magazines and 69 quarterly publications.
According to the Albanian Union of Journalists, 90 per cent of the private media are late in paying their staff salaries by between two and six months.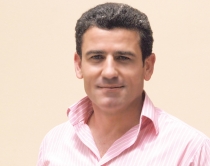 "This is the worst situation we have seen in a decade and things can only get worse in the near future, before they get better."
Apart from late salaries, another disturbing trend is the failure of many media companies to pay their staff's social security and health contributions.
Documents obtained by Balkan Insight from the state Social Insurance Institute show that Alsat TV did not pay any contributions for some of its journalists from the start of 2013.
The union estimates that about 60 per cent of media outlets in the country do not regularly pay contributions for their employees.
Currently, 67 cases brought by journalists and media employees, claiming "unfair dismissal", are before the Tirana District Court, involving 12 media outlets; the majority were filed by Alsat TV's former employees.
"This is the worst situation we have seen in a decade and things can only get worse in the near future, before they get better," Aleksander Cipa, head of the Union of Journalists, said.
Axel Kronholm, a Finnish journalist who has conducted in-depth studies of media freedom in Albania, says Albanian journalists work in a market with little job security, which encourages a culture of self-censorship.
"It is quite a difficult media environment, where journalists face insecurity over jobs, the labour code is not upheld… and even people with work contracts are unsure whether those contracts will hold up if they get in a fight with management," Kronholm explained.
He noted that although few reporters have been the victims of physical assaults in recent years, it is still something that they have to take into account.
"If you are uncertain about your job security and about your personal security, there is a risk of self-censorship being fostered," he added.
The situation is even more difficult for investigative journalists, Artan Hoxha, a crime reporter and author of the "Jungle" show on Albania's News 24 TV, said.
Hoxha says some media owners use investigative reporting as a weapon to attack political and business rivals, with little concern for the public interest.
"If you accept their terms, you are offered money, means and human resources - with the caveat that they determine what you investigate," Hoxha said.
According to Hoxha, the interests of media owners seldom coincide with those of the public.
"In most cases, media owners shy away completely from investigative reporting because they cannot find experienced journalists to work on their terms," he added.
Corruption allegations:
In Albania's polarized media market, TV stations are divided along political lines, and those that are closer to the government often receive rewards through the government's advertising budget.
Data collected by Balkan Insight from the treasury department database in the Finance Ministry show that the state spent at least 110 million lek (€780,000) between June 2012 and the end of 2013 on TV adverts.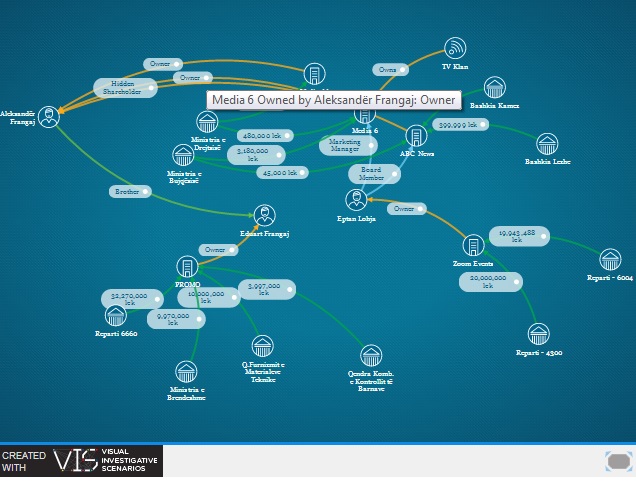 The Defence Ministry was the biggest spender, responsible for 82.2 million lek. (€584,000).
Almost all the public advertisement budget went to TV stations and agencies owned by or tied to Aleksander Frangaj.
Frangaj is the owner of Media 6, the parent company of TV Klan, one of Albania's largest broadcasters, and is closely tied to the 24-hour news station, ABC News.
A former foe of Berisha's, Frangaj later cultivated close relations with former Prime Minister Sali Berisha and his Democratic Party.
Four major ad campaigns run by the Defence Ministry, worth €584,000, went to two advertisement agencies linked to Frangaj.
Treasury records show that on June 6 and June 14, during the campaign for the parliamentary elections, the Defence Ministry issued two contracts to Zoom Events, worth 40 million lek (€284,000).
Business register records show that the director of Zoom Events, which was established on January 30, 2013, is Eptan Lohja.
Lohja is a marketing manager for TV Klan and also sits on the supervisory board of both TV Klan and ABC News.
The same ministry awarded two other contracts for 42.7 million lek (€300,000), to Promo Sh.p.k, an advertising agency owned by Eduart Frangaj, Aleksander Frangaj's brother.
Treasury records also show that the ministry distributed ads via direct contracts rather than through open tenders, which is the norm for the procurement of goods and services.
On December 9, at a dramatic press conference, Defence Minister Mimi Kodheli announced that she had just referred her predecessor, Arben Imami, to the prosecutor's office.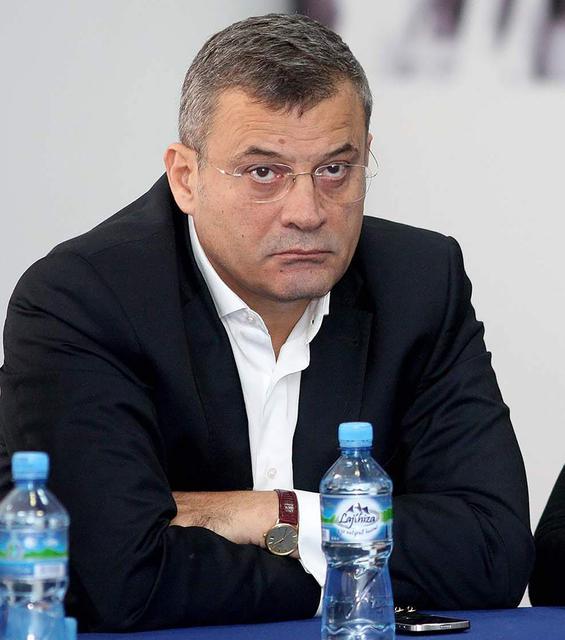 A May 12, 2013 photo from files showing Albania's former Defense Minister Arben Imami at a press conference in Tirana, Albania. Imami denied Monday, Dec. 9, 2013, accusations of abuse of post and public funding following a request for his prosecution from existing Defense Minsiter Mimi Kodheli saying they were personal revengeful acts. (AP Photo/Hektor Pustina, File)
Kodheli said an internal audit had uncovered major irregularities in tenders issued under Imami, and she was pressing charges for abuse of power, breaching tendering rules and embezzlement.
"I urge the general prosecutor to investigate these procedures that have led to the massive abuse of state money," she said.
Imami was Defence Minister from 2009 to 2013 in the centre-right government of Berisha.
He is accused of conducting illegal tenders to broadcast TV adverts for the Ministry of Defence and if found guilty, faces up to seven years' imprisonment.
Imami has called the charges filed against him politically motivated.
It was an "an act of personal revenge," he said. Socialist Prime Minister Edi Rama had "crossed a political and ethical red line but his threats scare no one, much less me," Imami told a press conference.
Other ministries and state institutions have also been generous to Promo Sh.p.k, and to other companies linked with Frangaj.
Promo Sh.p.k received two other contracts, one from the National Drug Center and another from the Interior Ministry, respectively worth 3.9 million lek (€27,700) and 9.97 million lek (€71,000).
Media 6 received two contracts from the Agriculture Ministry plus a contract from the Justice Ministry in the last two years, worth 3.6 million lek (€26,000) in total.
Three smaller contracts were also awarded to ABC News by two Democratic Party-run municipalities and by the Agriculture Ministry for a total of 2.7 million lek (€19,800).
Another advertising agency owned by Aleksander Frangaj, Media 66, received a contract for 1.4 million lek (€10,000) from the Justice Ministry.
The five companies linked to Frangaj received a total of 103 million lek (€730,000) in advertising from state institutions over two years.
By comparison, Top Channel TV, Albania's largest private broadcaster, received a modest 1.3 million lek (€9,940) over the same period.
Treasury data on advertisements do not include money spent by state-owned companies, which means that the public money channeled toward the network of companies tied with Frangaj is even larger than the sums mentioned.
According to a monitoring report by the Energy Regulatory Agency, ERE, the utility distributor CEZ Shperndarje spent 6.4 million lek (€45,000) in TV ads in one month alone, May 2013.
The lion's share went to ABC News, followed by News 24, Ora News and UTV Education.
Corporate heavyweights:
According to Freedom House's annual report published on October 3, Albanian media outlets typically rely on financial support from owners and a few major advertisers, and a culture of self-censorship designed to suit the interests of the benefactors is common.
No public data exist on the size of the size of the advertising market in Albania. However, an internal report obtained by Balkan Insight, prepared by a marketing agency, puts the value of the TV advertising market for the first 11 months of 2011 at 4.2 billion lek (€29.8 million).
Ads as propaganda:

 

While the state's share of the advertising market in Albania is only a small portion of a market dominated by the big telecommunications companies, it is these ads that have caused the fiercest debates.

 

This is because many were broadcast on the eve of elections, and their content often amounted to little more than commercials for the incumbent government.

 

Documents obtained by Balkan Insight from the Integration Ministry, through a freedom of information request, show that in 2009, for example, the ministry awarded a contract to an advertising agency, MC sh.p.k, to promote "Youth Day", for 16.1 million lek.

 

The spending on the ad was part of a bigger fund of 88.7 million lek (€630,000), which, apart from the ads, paid for cultural activities and material to host the event.

 

However, the event turned out to be a front for a Democratic Party rally, complete with a speech by Prime Minster Berisha and a crowd of supporters weaving the party flag.

 

During the same year, MC sh.p.k, which ironically stands for "Ministry of Communication," produced four similar state-sponsored ads.
Data from Idramedia, a media research company in Tirana, show that from January to June 2012 the top five TV advertisers - all telecommunication companies - spent 18.75 million euro on adverts.
The highest-spending advertiser was the mobile phone operator Vodafone, which spent 6.3 million euro, followed by AMC Mobile, Eagle Mobile, Albtelekom, and Plus Communications.
In 2011, the telecommunications sector accounted for 69 per cent of TV advertising market, followed by coffee, which accounted for 14 per cent.
Owing to the size of the telecommunication companies as a source of revenue for TV and print outlets, there is almost no critical reporting in the media on mobile operators.
When the Competition Authority fined the country's two biggest mobile operators, Vodafone and AMC, for uncompetitive behaviour in 2007, few outlets even reported on the story.
Little has changed since then. In September, when the Competition Authority opened a new probe against Vodafone, which is accused of abusing its dominant position in the market, the story again found little space in the media.
Instead, it was the Competition Authority that found itself battling tabloid media criticism of the probe.
Gjergj Erebara, editor of the daily newspaper Shqip, says a few big companies, which serve as a lifeline for TV stations and newspapers, dominate the advertising market completely.
"Some of these companies are only advertising to keep the media's mouth shut… using their ad budget as leverage in the editorial room," Erebara said.
According to him, corporate pressure in the editorial rooms is so significant that reporters hardly ever investigate and report critical stories about big business.
Several internal emails obtained by Balkan Insight corroborate claims that big companies sway editorial policy in newsrooms.
An email sent on May 17, 2012 by a PR agency representing CEZ Shperndarje, the electricity distributor, asked a reporter to put a spin on a report from a parliamentary hearing.
CEZ Shperndarje, which was owned by the Czech power giant CEZ group at the time, lost its operations license in January 2013 and is under temporary administration of the Energy Regulatory Agency.
"As a company responsible for safeguarding the image of CEZ Shperndarje, considering we have a service contract with your newspaper in this regard, and without censoring your independence, we ask you to protect the image of the company in this debate," the email read.
A marketing manager from the low-cost carrier Belle Air was less diplomatic in an email sent to the same newspaper on August 14, 2013.
An Albanian airline founded in 2005, Belle Air went bankrupt on November 18, and is now under investigation for fraud.
Following a critical story in the newspaper, the company sent PR material, insisting that it be published as a news report – and on the PR company's right to vet the contents.
"The communication should be in the form of an article and not an advertisement, like last time," the email said. "Before you go to print, please send me the draft," it added.
In a statement for Balkan Insight, Barbora Pulpanova, a spokesperson for CEZ Group, said that "it hasn't happened so far that anyone would complain about any cooperation with an agency that we hired."
Erebara said media do not complain outside about this undue influence because they themselves also are corrupt.
"Some media use their power to blackmail companies for advertising," he said. "It's a negative relationship on both sides."
Albanian version of the article is available here.
This article has been produced with the financial assistance of the project South East European Media Observatory.
Media Integrity
Journalism