Debut of P24 documentary "Persona Non Grata"
Film highlights plight of journalists fired for simply doing their job.
Uluç Özcü, a sandy-haired photographer for Sabah newspaper spied a friend who had joined a union picket line outside the Istanbul daily. He went over and said hello. That afternoon he was summoned to the human resources department to be told he was being summarily dismissed.
This is just one of the many stories told in Persona non Grata, a film by the noted director Tuluhan Tekelioğlu and the first full length documentary to be produced by P24 – the Turkish NGO providing a platform for independent journalists.
The film (which can be viewed here) begins with the now editor-in-chief of the Cumhuriyet, Can Dündar going off to court to face charges of insulting President Recep Tayyip Erdoğan. Dündar's offence was to interview the prosecutor who oversaw a corruption probe in which the president was implicated.
The film showed the day-to-day stress of a profession forced to self-censor and the kowtow to government pressure and highlighted dilemma of journalists fired for doing the right thing. Among those interviewed were, Hasan Cemal -the winner of Harvard's prestigious Louis Lyons Award, who lost his job as columnist with Milliyet after a public quarrel with then Prime Minister Erdoğan, and Ahmet Şık, who was fired and later imprisoned for an entire year awaiting trial on what many regard as the absurd charge of trying to abet a coup d'état.
Not all the journalists depicted were press heroes – some had themselves been all to willing to toe the government line, only to lose their jobs when they could bend backwards no further. A particularly controversial moment featured Derya Sazak, fired from the once liberal Milliyet newspaper who appeared a lonely figure, though ensconced in a luxury home which he acquired as part of his job as editor-in-chief. He had been responsible for sacking many of the paper's senior writers.
Another controversial figure featured the dismissed the editor-in-chief of Turkey's Haber Turk daily, Fatih Altaylı, who defended what was at the time a much criticised fawning interview with the then prime minister, Tayyip Erdoğan.
A surprise cameo in the film was Aydın Doğan, head of the media group and holding corporation which bears his name. His group faced government pressure in the form of huge tax fines but was Doğan group papers were notorious for systematic self-censorship and serving the non-press commercial interests of their parent company well before the Justice and Development (AKP) Party came to office.
None of this was stated overtly in the film and to some minds this allowed Doğan to emerge as a sympathetic character. This was the criticism of Mustafa Alp Dağıstanlı, who in a critical piece stated that political pressure has always been a pre-condition for working in the Turkish press, and that Persona non Grata should have been more critical on the role of media owners.
Another critical view that came from Fatih Vural, published on P24's website, stated that journalists who have the backing of powerful groups - the so-called "White Turks" or former elite of Turkey who have seen their power erode under the Erdoğan government - always had a safety net of sorts, but those who didn't have those connections were doomed to be out of jobs and simply starving if they are to defend the truth.
In response to this criticism, director Tekelioğlu argued that all journalists have made mistakes but the Turkish media will continue to bow and scrape to authority until journalists learn to unite and stand as one against repression. The film itself ended with a plea for professional solidarity.
However, the film was by and large favorably received and covered extensively by many alternative media organizations and websites in Turkey, including Bianet and the Union of Turkish Journalists. It was enthusiastically received at is debut screening in the Swedish consulate in Istanbul as part of the 3 May World Press Freedom celebrations which P24 organized.
That event included a lecture by former Guardian editor Peter Preston on World Wide News Freedom in a Digital Era.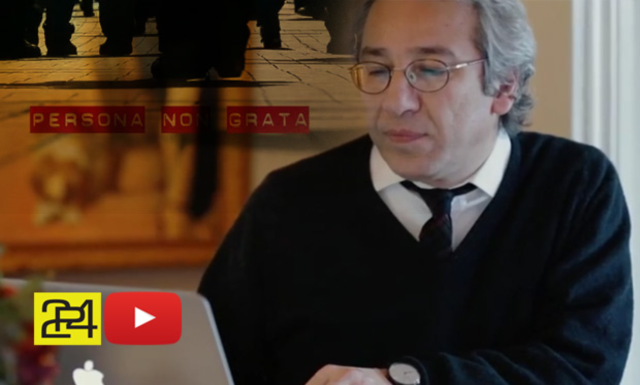 Photo: Can Dündar
That such freedom remains a scarce commodity is attested to by the condition of Can Dündar who was featured in the film. Dündar was bitterly assailed by President Erdoğan on May 31 Cumhuriyet reported on trucks headed for the Syrian border and documenting that they were laden with weapons  and not (as was claimed) humanitarian aid, and that almost certainly the intended recipients were radical Islamic groups fighting Bashar al-Assad.
Turkish president publicly warned Dündar he would pay "a heavy price" for his newspaper's exclusive and has subsequently filed a criminal complaint calling for an aggravated life sentence (one life sentence and an additional 42 years) for what he called an act of espionage.
Being in work in the Turkish press can sometimes be as hard as being fired.
Media Integrity
Journalism