EU Award Winners in Serbia: Journalists need more courage

Interview with Miloš Teodorović and Ivana Lalić Majdak, authors of documentary film "Witnesses" and this year's winners of the EU Award for Investigative Journalism in Serbia.
The EU award for investigative journalism is awarded for the first time in Serbia to Miloš Teodorović and Ivana Lalić Majdak, authors of the documentary film "Witnesses". We sat down with Miloš and Ivana to discuss the situation in Serbian media, the pressures they face, the significance of the documentary film "Witnesses", but also journalistic courage and motivation - without which it would be impossible to get such a prestigious award.
What does this award represent for you personally?
Ivana: For us this award represents a great recognition, firstly because the film "Witnesses" was offered to the three TV stations with national frequencies in Serbia (RTS, TV Prva and B92) for free broadcasting. But not one of these TV stations wanted or dared to broadcast the film. The film was broadcasted only on B92 Info TV, which doesn't have a national frequency.
Do you believe that this award will help "Witnesses" reach a wider audience and motivate other TV stations to broadcast it?
Ivana: We hope it will. At least, we hope that issues raised in the film "Witnesses" will continue to be raised, because at the moment position of protected witnesses is really difficult in Serbia. These are people who had the courage to publicly testify about the crimes of their comrades. In particular, in the film we have dealt with the crimes against Albanian civilians, and these witnesses precisely because of their testimonies are encountering condemnation and have a lot of problems in their communities. Because of that we hope that the media will get more involved in this topic.
Miloš: The fact of how many times the movie will be broadcasted and the movie itself, are less important. Much more important is that this story is becoming the "litmus test" for this society. See what kind of treatment this film has in the media and you will see where our society is. The film "Witnesses" is something that should be broadcasted in the prime time of Radio Television of Serbia. Because it speaks about the substantive issues this society has been dealing with for 20 years. And this movie almost didn't find any space in media for broadcasting. It is an indicator of the society in which we live.
How long have you worked on the preparation of the film? Have you encountered any pressures during this work?
Ivana: The project lasted a year. During this time we've had different experiences with the protected witnesses. With some of them it was difficult to talk, but with others it wasn't. Of course, they were primarily afraid that public speaking about the crimes could affect their position. The movie portrays former protected witnesses - former members of the 37th Special Police Unit. These are the people who live in small towns in southern Serbia. They have spoken publicly about serious crimes for which their commander Mitrovic was firstly indicted, and then acquitted.
It deals with the crime in Suva Reka, where 48 members of the Berisha family aged from one to 101 were killed. Those witnesses came out publicly because they were very dissatisfied with the treatment they have had in the protection program. In particular, they had objections to the Prosecution for war crimes and to the witness protection unit that was protecting them. It was easier to make contact with these witnesses. A significant problem was the fact that a witness who appears in the film, Zoran Raskovic, a former member of "Jackals", is still a protected witness. He renounced the secrecy of identity during the trial because he thought that it was more honourable to look into the eyes of people against whom he was testifying. Those were his former comrades. He had problems, not with the people from the witness protection unit, who protected him, but with the former head of the witness protection unit – Milos Perovic. Perovic was on this position for six years and he was removed from his duty in June, during our work on this film. Raskovic was afraid that he would lose his protection if he gave us an interview. The moment when he decided to testify was when the "Jackals" were convicted on a specific jail sentence by the first-instance court decision. After that, they were acquitted by the decision of the Court of Appeal. But after the first-instance verdict, on the same night when they were released from jail pending the appeal, the house-raft of the witness Raskovic was burned by unknown perpetrators. He then realised that speaking in public is a kind of protection for him and that he has nothing else to lose and gave us the first part of the interview. After that, we continued filming and everything was easier. But a big surprise for us during the work on this film was the relationship with the institutions of the system - their unwillingness to grant our request and give us an interview.
Miloš: In fact it is about resistance and that absurd that revealed itself during the project realisation. If not easier, then the same effort was needed to convince the witnesses to participate in the film as for representatives of authorities. We weren't able to find interviewees in the witness protection unit, although Mr. Perovic has been appearing in the media, in articles which were apparently strictly controlled. It took us six months to negotiate interviews with the prosecution. We couldn't persuade a single judge from these sensitive processes to speak with us, not even through the contacts or on insistence of the Office of the Commissioner for Information of Public Importance. It tells you how closed the institutions dealing with the prosecution of war crimes are. There is a code of silence in these institutions. Then what can we expect from the witnesses?
This film is the first act. The second act is happening right now and everything can be subsumed under some issues surrounding activities of institutions, activities that can be performed either well or badly. But the fact that the media are not engaged in these issues is absolutely devastating. Just imagine a system in which a murder happens. Now imagine how in some Western democracies the media gather around that person, around a judge, prosecutor... How they chase lawyers… In our country there are no such reactions. I know one or two media which have dealt with this topic. 120 civilians were killed. I don't know what is more important than that, and the media here practically remained silent. This is just another example of the phrase "Where do we live?"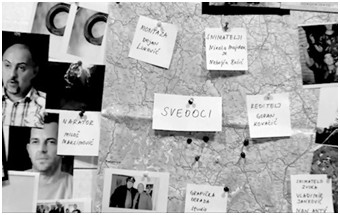 Does this mean that you are still following the subject of witness protection, even after the film has been broadcasted?
Miloš: This is broader than the treatment of witness protection. Here all the issues are covered. The only thing more important than the witnesses shown in the film are the victims. This system and its institutions are constantly banging slaps to the victims. People who have survived a variety of crimes, victims who decided to be witnesses in the processes, such as in the case of "Simini četnici"… These people now see how the people they have testified against are set free.
Considering the current situation on the media scene in Serbia, what would you recommend to the younger colleagues? How should they handle the professional challenges?
Ivana: In any case, they need to have more courage. I think this is the saddest and the ugliest time of Serbian journalism. This is the time when on a daily basis about 70% of media content is tabloid reporting, half-truths and package arguments. In such a situation, investigative journalism really seems like fighting windmills, but I think that in any case journalists shouldn't give up and don't need to abide by low criteria of yellow press. There have been much worse times than these, when the journalists struggled and were bolder. Their work was based on journalistic ethics, which preserved their moral and professional integrity and dignity. I'm talking about the 1990s, when journalists were losing not only jobs, but also their lives. Nowadays we are constantly talking about the political and economic pressures on the media. But no one asks the question why do journalists agree with these conditions? Why are they not braver? Serbia is a country where journalists are being killed, but if you decide to go into journalism, you should be willing to take the risks that exist. Thus, what journalists really need the most is courage.
Miloš: It seems to me that the situation is even worse than Ivana described, because there is no space in which such voices could be heard. So, this film is a matter of serious alternative, because of the very small number of people who are willing and actually see any reason to participate in it. There is no space in media which would broadcast and/or insist on this kind of programme. Even if you find a journalist who has the ambition to be in this business with an idea of seriousness, he simply has nowhere to express it or to get support. The media space that treats these issues as relevant is lost. That is a significant test for the media in Serbia. Practically, there are no media that have a serious approach to work and sooner or later someone will have to deal with this. Now it's too late. And what will happen after, I don't know how to predict.
What are your future professional plans? What projects are you currently working on?
Ivana: We are currently working on a project that deals with self-censorship. It will also be a documentary film titled "The censors in us." It is supported by the Ministry of Culture of the Republic of Serbia. The main topic of this film is why journalists accept nowadays conditions.