Non-transparent media ownership in Macedonia

Presentation by Meri Jordanovska, investigative journalist, Fokus weekly, Macedonia at the SEE Media Observatory conference in Tirana.
Government pays millions of euros for advertising and those money go directly to the media. That is how they buy them and control them.
Central regional conference of the SEE Media Observatory:
"Media and journalism in South East Europe – 

Captured by particular interests or turning to serve the public?"
Session 2: 

Media ownership – main patterns and risks for media integrity 
Presentation by speaker: 

Meri Jordanovska, investigative journalist, Fokus weekly, Macedonia
Macedonia has a very clear picture regarding media ownership – and I'm not saying this because it's something good and positive. I will tell you why. 
Regarding TV stations and printed media, we already know – the owners were the politicians, mostly members of the coalition of the ruling party VMRO-DPMNE. After the law changes, that forbids a politician to be a media owner, they transferred the ownership to their closest friends!
There is a very clear rule in Macedonian media ownership – the owner go where the money are. And of course, the money is in the hands of the Government. So, the owner is not really an owner of the media. The Government is. Because the Government pays millions of euros for advertising and those money go directly to the media. That is how they buy them and control them.
As for the other media, that struggle to be neutral, objective and professional, who are trying to be a watch-dog, there are different rules. 
- An inspection will come to you;
- You will get a lawsuit for defamation;
- You will have no commercials;
- You will be called a "sorosoid", "traitor of the country" etc… 
So, all of this is a very subtle way for the government to tell you: Be careful what you publish!
The media ownership in Macedonia is extremely non-transparent regarding the web portals.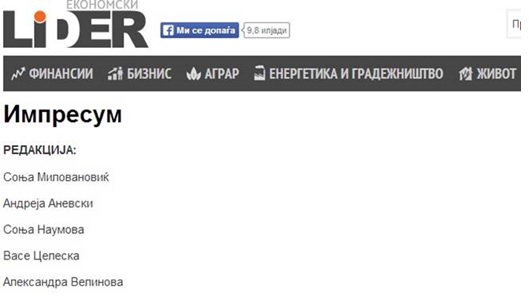 Above you can see how the pro-governmental web portal
www.lider.mk
has published their ownership details: there is no editor, no publisher, no registered company, no director… Just a couple of names who work as journalists. This is the case with the majority of news portals in Macedonia – on their web pages you can't see anything related to the media ownership!
This is why I and my two colleagues, Saska Cvetkovska from NOVA TV and Vlado Apostolov from Fokus magazine started the project called
MediaPedia,
with a grant of SEE Media Observatory. The aim was to investigate and find out who is hiding behind the Macedonian web portals, so we made the first data base on media ownership in our country. 
We have worked for more than 6 months to find the real owners and we were struggling with off shore companies, non-existing companies and a wide net of people engaged in order to hide the real owners.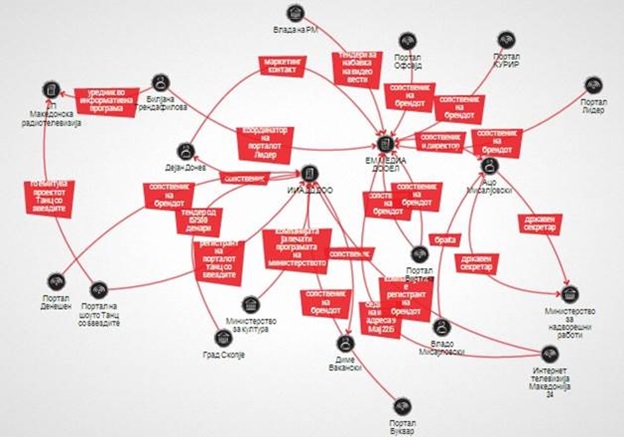 On the picture above you can see the scheme on how we tried to discover the ownership of one of the biggest and most influential pro-governmental media in Macedonia,
www.kurir.mk
. This is a web-portal that often uses hate speech, defamation and offensive words for the other journalists. Not one text on the web-portal has an author signed. But still, the stories from Kurir are quoted on every national TV station in Macedonia that is close to the government. 
Our investigation showed that two companies are hiding behind this web portal – EM MEDIA DOOEL and IIA DOO. They both have the same contact person – Dejan Donev, who is not famous in Macedonian public. 
EM MEDIA DOOEL is an owner of other four web portals and IIA DOO is an owner of three web portals. All these 7 portals are quoting each other and they all follow the government policy. The director of EM MEDIA is a certain person Aco Misajlovski, a name that doesn't mean anything to the public. But, if you search deeper, you will see that this person is a brother of Vlado Misajlovski, state secretary of the Ministry for foreign affairs from the ruling party VMRO-DPMNE. 
All of these portals have many governmental commercials. The two companies have tenders directly from the Government, from the City of Skopje, Ministry of culture and many other state institutions. The journalists working in these media are also journalists in Sitel TV (the biggest pro-governmental national TV station) and the State Macedonian television.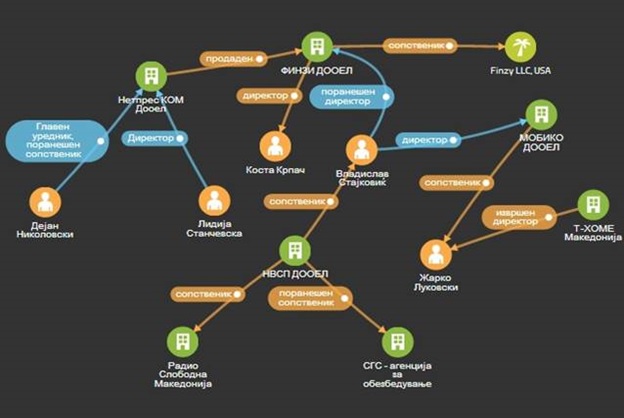 This is another large web portal,
www.netpress.mk
. The real owner of this media is a company named Finzy DOOEL and the owner of this company is Finzy LLC – situated in the USA. If you check the address where Finzy LLC is situated, you will see that on the address there is a registered company for helping other companies to open an off shore affiliate. 
But, in Macedonia, if you see the first director of Finzy LLC, the name of Vladislav Stajkovic will appear. This person led us to a very important company in Macedonia named NVSP. Stajkovic is an owner of this company. So, NVSP is an owner of the pro-governmental radio called Radio Free Macedonia, and also a first owner of SGS – a security agency that is connected with the chief of the secret police, Saso Mijalkov.
And these are just two examples. We have many other examples, like the weekly magazine Republika that is situated in
Belize
. This magazine has around 6 pages with the commercials of the government in each copy of the magazine and our investigation showed its close connections with Macedonian businessman connected to the Government. 
So, this only shows that the real media owners in Macedonia do not want to be found, because behind every media financed with the government commercials, a high official is hiding! 
As a result of this:
- The public doesn't know who informs them
- They don't know how their money are spent
- They don't get any relevant or objective information
- The media space becomes poisoned with the interests of few people
The only way to find a way out of this situation is the government to take its hands off the media. But I am not an optimist in this moment, because they have built this wall for years and it is very hard to ruin that wall now. 
Media Integrity
Media Ownership and Finances