BOSNIA AND HERZEGOVINA: EU Investigative Journalism Award Launched in Sarajevo
The contest for the EU Award for Investigative Journalism in Bosnia and Herzegovina for 2016 was launched at a press conference held today in Sarajevo by Ambassador Lars-Gunnar Wigermark, Head of EU Delegation in Bosnia and Herzegovina and Boro Kontic, director of Mediacentar Sarajevo. 
"The award we are launching today aims to show how much we appreciate investigative journalism. It is important and significant contribution to transparency, good governance and to the right of citizens to know" said Ambassador Lars-Gunnar Wigermark.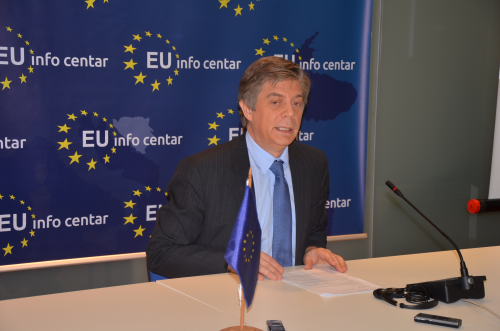 Ambassador Lars-Gunnar Wigermark, 
EU Delegation in Bosnia and Herzegovina
He drew attention to the many cases in which investigative journalism today implies true courage and persistence from journalists.
"Investigative reporting brings back the faith in the integrity of journalism and the media. The EU fully supports investigative journalism as an element of a healthy democracy," he said.
Boro Kontic, Director of Mediacentar Sarajevo, reminded about the difficult situation of media professionals in Bosnia and Herzegovina. 
"The media are an interesting reflection of today's Bosnia and Herzegovina in many ways. Journalists are among the least paid workers, they suffer huge economic and political pressure from, by all indications, an incompetent government. Yet, they manage to inform the public about the kind of society that we live in" Kontic said.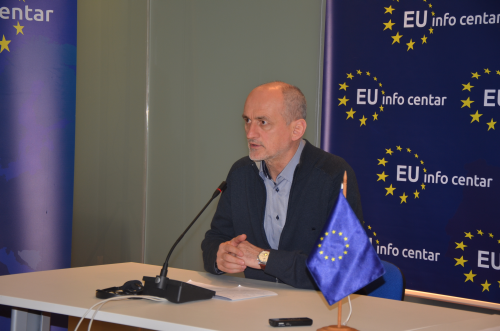 Boro Kontic, Mediacentar Sarajevo
He expressed the hope that this year's competition is an opportunity to learn about good and interesting investigative stories written by B&H journalists, and that the figure of 49 entries submitted in last year's competition will be exceeded this year.
Contest is open for investigative stories published between 1 January – 31 December 2015 reporting on societal issues related to abuse of power and fundamental rights, corruption and organised crime in Bosnia and Herzegovina, published or broadcasted at any type of media in Bosnia and Herzegovina: print, radio, TV, online or combination of those. Novelty in this year's contest is a new subcategory for the best story by young investigative journalist, born in 1980 or later.  
Deadline for applications is April 1, 2016. 
Instructions for submission of entries are available at
www.media.ba
.