Ten partners met to kick off SEE Media Observatory Phase 2
The new phase of the SEE Media Observatory started on 1 February 2015 when three new partners from Kosovo, Macedonia and Turkey joined the regional partnership of civil society organizations which worked together on enhancing media freedom and media integrity, and influencing media reforms in the countries of South East Europe since December 2012.
Ten partners will join efforts for next 22 months (until December 2016) in addressing obstacles to democratic development of media systems by using SEE Media Observatory as a regional instrument for media research and monitoring, support to investigative journalism and civil society engagement. The activities will cover all seven EU-enlargement countries: Albania, Bosnia and Herzegovina, Kosovo, Macedonia, Montenegro, Serbia and Turkey. The Guardian Foundation will continue its participation and support to the project as an associate partner. The project SEE Media Observatory in the Phase 2 is still funded by the European Union Instrument for Pre-accession Assistance (IPA), Civil Society Facility Programme (CSF). Open Society Foundations Program for Independent Journalism has provided additional support in this extended project period.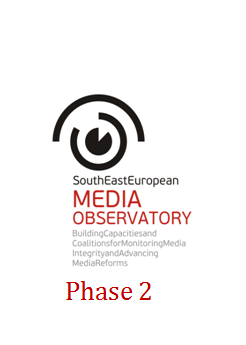 On 15 and 16 February, the kick-off meeting of representatives of 10 partner organizations was held in Ljubljana to provide common understanding of project goals and structure, to review the project timetable, and discuss responsibilities of partners for specific national and regional activities.
Remzi Lani, Albanian Media Institute, Tirana, Ines Bamburać Alibašić, Media Center Sarajevo, Saša Leković, Center for Investigative Journalism, Zagreb, Ilona Móricz, Center for Independent Journalism, Budapest, Qerim Ondozi, Press Council of Kosovo, Biljana Petkovska, Macedonian Institute for Media, Skopje, Ljiljana Žugić, Montenegro Media Institute, Milan Nedeljković, Novi Sad School of Journalism, Novi Sad, Jelena Jovović, Novi Sad School of Journalism, Novi Sad, Yavuz Baydar, P24, Istanbul, Franja Arlič, Peace Institute, Ljubljana, and Brankica Petković, Peace Institute, Ljubljana participated in the meeting.
Since the same regional partnership of civil society organisations is selected by the European Union for administering the Regional EU award scheme for investigative journalists in Western Balkans and Turkey, the meeting was used to address preparatory issues for launching of the EU award contests in seven EU-enlargement countries.