Lobby Firm Behind Campaign to Smear Albanian Socialist

The Podesta Group, a lobbying firm working for Albania's then government, planted several negative stories in the US media about Socialist leader Edi Rama on the eve of parliamentary elections.
The third article from Albania produced as a result of investigative journalism grants awarded by the project SEE Media Observatory.
FOTO: US President Barack Obama and Albania PM Edi Rama, during the October 8, 2012 meeting in San Francisco.
Sali Berisha's government spent taxpayers' money on a smear campaign in the US and in Albania directed against his political opponent, Edi Rama, which played well in the hands of the US Republicans and led to calls for an FBI investigation against US President Barack Obama.
Documents obtained by Balkan Insight under the US Justice Department Foreign Agents Registration Act, FARA, show that the Podesta Group, which the Berisha government engaged for over two years, appears to have been behind three negative articles against Rama.
The Podesta Group, which the Berisha government engaged for $60,000 per month, is considered one of the most powerful lobbying firms in Washington. 
The stories were published on a conservative US website, the Daily Caller, between May 29 and June 18, in the run-up to the June 23, 2013 parliamentary election in Albania, which Rama's centre-left coalition won handsomely. 
The Socialist-led Alliance for a European Albania won 84 of 140 seats in parliament, on 57.7 per cent of the national vote. 
The Daily Caller accused Rama of having illegally funded Obama's Democratic Party through an American-Albanian businessman in order to secure a photo opportunity with Obama on October 8, 2012.
The US Federal Election Campaign Act, FECA, prohibits foreign nationals from contributing to, or spending money on, federal, state, or local elections in the United States, directly or indirectly.  
Albania's pro-government media and Berisha's Democratic Party reproduced the allegations printed in the Daily Caller during the election, claiming that the FBI was investigating Rama.
Although the campaign did end with a letter from a Republican Congressman, demanding an investigation by the FBI and the Federal Election Commission, FEC, none of the claims has since been proven, nor has any investigation taken place.
Circumventing US law:
The Daily Caller alleged that Rama circumvented restrictions on foreigners funding US election candidates by making donations through a New Jersey businessman, Bilal Shehu. 
He then made sizable contributions to the Democratic National Committee, DNC, and the Obama campaign fund just before Rama met the US President in 2012. 
FEC records show that Shehu and his wife, Aida, contributed nearly $80,000 to the US Democratic Party between August 28 and October 26, 2012.
Bill Alison, of the Sunlight Foundation, a Washington-based organization that monitors lobbying firms, says lobbying firms routinely contact US media on behalf of their clients, and there have been several cases in the past of firms placing stories. 

According to Allison, one of the most notorious cases was of Edward Von Kloberg III, a lobbyist for Iraqi dictator Saddam Hussein and Mobutu Sese Soko of Zaire, who died in 2005.  

"I had a chance to review his files after he died - there was nothing but clips from newspapers of stories he had gotten published," Allison recalled.
They show that $38,300 went directly to the DNC Services Corporation, the fundraising power behind the Democratic Party, with the rest distributed between the Obama campaign fund and various state chapters.
A photograph that Shehu posted on Facebook with Obama shows him attending a scheduled fundraiser for the Obama campaign in San Francisco on October 8, 2012. 
Another photograph posted on the net shows Shehu meeting Rama on the same day.
Shehu, the owner of Eliot and Kleri LLC, a limousine service in New Jersey, did not return a request from Balkan Insight to comment. 
Although his contributions to the Obama campaign were significant for a single donor, they appear well within Shehu's financial reach.   
Property records from Bergen County show that he resides in a house that he bought in 2010 for $922,000.
Though Rama met with President Obama he has denied that he ever paid to secure the photo opportunity, calling the allegations "insulting". 
"Although the photo [of Rama] was taken during a meeting in San Francisco, Edi Rama did not attend any fundraiser," Endri Fuga, Rama's spokesperson, said in a statement.
Podesta in action: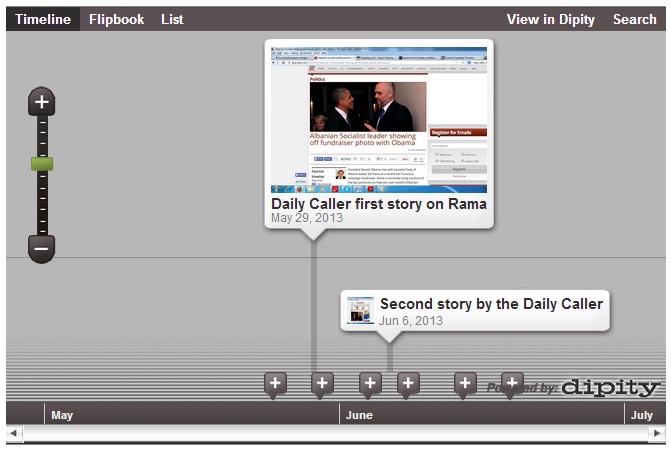 FARA records indicate that while the Daily Caller was publishing the stories, Podesta had intensive contacts with the website's founder, Tucker Carlson, and with the reporter on the story, Patrick Howley.
Podesta called Carlson on May 24, the day that Rama posted his photograph with Obama on Facebook. 
The telephone call with Carlson was followed up by emails to Carlson and Howley on May 28, when the website published the first article on the allegations.
By June 6, when Howley published a follow-up story on the same topic containing additional data, he had received seven other emails from Podesta. 
Howley published a third and final story on the affair on June 18, citing California Republican member of Congress, Dana Rohrabacher, who had sent a letter to the FBI and the FEC, asking them to investigate Rama "as part of a conspiracy to circumvent US election laws".
Although Rohrabacher called on the FEC to investigate Rama, he never filed an official complaint with the organization, fueling suspicions about the validity of the claims and conflict of interest. 
"I have inquired about a complaint from Dana Rohrabacker against Bilal Shehu but cannot confirm that we have received one," Julia Queen, a spokesperson for the FEC, said.  
FARA records show that Podesta representatives met Rohrabacher on June 13, following this up with an email and phone call to two members of his staff one day later.
In 2009, Rohrabacher received a campaign contribution from the now defunct PLM Group, a former joint venture between Podesta and the Livingston Group. 
In 2012, he also received a $5,000 donation from the Albanian-American PAC, a conservative political action committee headed by the wife of former Republican congressman Joe DioGuardi.
According to the Washington-based Center for Responsive Politics, Rohrabacher received $22,500 from Albanian-American PAC, from 1998-to-2012.
The founder of the Albanian-American Civic League, DioGuardi had a close relationship with Berisha while the latter was Albanian President from 1992-to-1997.  
The Albanian-American PAC is the political fundraising arm of the Civil League.
One day before the publication of the final story on Rama, on June 17, Howley received a final email from Podesta. 
Queried by Balkan Insight about contacts with the lobbying firm, Howley declined to comment.
Asked about allegations that they had planted the hostile stories about Rama in the Daily Caller, John Anderson, of Podesta, declined to comment. 
"Outside of what is made public in our FARA and LDA filings our company policy is not to comment on specifics of our client engagements," he said in a statement.
FARA records show that all the main parties in Albania have used major US lobbying firms to sway US media coverage.
Apart from Podesta Group, they have used Blue Star Strategies, Dutko International, BKSH & Associates and Rasky Baerlain Strategic Communications. 
The agent of Rama's Socialist Party, Rasky Baerlain, sent dozens of requests to the international media in 2010 in a drive to arrange interviews or promote coverage of the political crisis in Albania. 
Unlike the other firms paid to represent Albanian parties, the then government paid for Podesta's services using taxpayers' money.
This article has been produced with the financial assistance of the project South East European Media Observatory.