Major powers tailored Serbian media legislation for 'Balkan CNN'

Regardless of different EU policies on the issue among different EU member states, the Serbian media practice to date does not leave room for optimism.
Media Observatory reveals how the European Commission enabled changes to the Serbian media laws, and the Serbian government unquestioningly conformed to it, paving the way for potential undermining of media pluralism in the country.
If a newspaper publisher had its own news stand, it could start placing its publication in front and hiding rival titles at the back.
The same goes for the Serbian public service broadcaster. If it had distribution activities, it could abuse its distributor's position by favouring its own programming.
It follows that a cable distributor/ operator should not be allowed to also operate as a content provider.
However, on August 2, 2014, the Serbian National Assembly adopted the Law on Electronic Media and the Law on Public Information and Media, enabling distributors/operators to produce content and favour their own channels to others.
As a result, as of October 30, 2014, cable television station N1, CNN's affiliate in the Balkans, has been on air across the former Yugoslav countries through the biggest operator in the region, SBB/Telemach Group, which is its owner.
This raises question why Serbian legislators made an exception for cable distributors/operators only.
In attempting to track this case, Media Observatory has uncovered a more disturbing dimension to the legislative changes that enabled N1 to launch its programme. It indicates that people working at the European Commission Directorate General for Enlargement's Unit on Relations with Serbia have adjusted the country's draft laws according to the comments they got on the issue from major powers that threaten to undermine media pluralism in the country.
On the other side, the Serbian government unquestioningly conformed to the Brussels opinion on the issue, instead of protecting public interest of its citizens.
The wheel of change
Legislation in the region

BOSNIA
It is allowed for distributors/operators to also be content providers. The Rule 56/2011 is defining criteria for licenses for distribution of audiovisual media services and radio media services, while the Rule 55/2011 is citing the criteria for providing audiovisual media services.

CROATIA
According to the Croatian Law on electronic media, Article 79, the operator performing the activity of distribution of audiovisual and / or radio program can not be the owner of the television and / or radio, and media service provider.

MACEDONIA
The Article 39 paragraph 1 of the Law on the audio and audiovisual media services forbids cable distributors/operators to found media.

MONTENEGRO
It is allowed, as the Law on electronic media does not contain the article or provision that disables distributors/ operators to also be content providers.

SLOVENIA
Article 61 of the Mass Media Act (2006) envisions incompatibility of performing telecommunications activities and radio and television activities "unless the licence for performing radio or television activities specified in Article 105 of the present Act is obtained." According to the Article 105, the licence is to be issued to an operator under the application of the sense of the conditions and criteria, which Agency for Communication Networks and Services of the Republic of Slovenia is due to lay down.
The search for those who enabled these amendments begins with the Serbian working group tasked with drafting the set of media laws.
The Law on Public Information and Media and the Law on Electronic Media have been under preparation for years. Over time, there have been many drafts that went along with changes in the ranks of the competent elite in the Ministry of Culture and Media, as well as changes among the members of working groups.
The version of the draft Law on Electronic Media, presented at the public debate in October 2013, did not allow cable distributors/ operatorsto have news programme, but enabled it for all the rest, including allowing state-owned telecommunications company and cable operator, Telekom Srbija, to have its own sports programme. Telekom owns the four Arena Sport channels.
According to Article 109, "in order to prevent distortion of media pluralism, or exercising the predominant influence on public opinion, it is not permitted that: 1) The operator provides general media services and media services specialised in informative programming content." Hence, it follows that it can provide sports news.
Dragisa Kovacevic, owner of SOS, the first sports channel in Serbia and Arena Sport's rival, said that the law was tailored to suit Telekom.
"They [the government] will sell it [Telekom] better if it has TV channels along with the mobile, landline and cable network," said Kovacevic, who was one of the loudest in the public debate fighting against this provision.
Rade Veljanovski, Belgrade University professor and member of one of the working groups tasked with drafting the laws, said that Dragan Kolarevic, Assistant Minister of Culture at the time in charge of media, opted for this provision as something in Serbia's national interest. But, the working group refused to add this provision in the draft law.  
According to seven interviewed people, who were tasked with drafting the law in different stages, no one knew who actually wrote this article. Media Observatory learned that this provision was added at the Ministry all of a sudden, before the public debate in autumn.
The country's leading cable operator, SBB, on the other side, found this provision too restrictive and insisted that the provision was withdrawn to allow all operators to produce news programming.
During the public debate on the law, in autumn 2013, Serbia saw a government reshuffle which brought Sasa Mirkovic, of the Association of Independent Electronic Media (ANEM), to the post of the Assistant Minister of Culture and Media in charge of media, on October 14, 2013.
"I remember very well that we had an absolutely unbelievable and chaotic situation with these texts of draft laws as a result of a variety of influences. We had to respect these texts, which provided the basis for the public debate, but also to sort out what belonged to which law," Mirkovic said.
Therefore, a new working group was formed in order, according to Mirkovic, to find a way to complete the unfinished work in a transparent manner. Besides Mirkovic, the group consisted of Sinisa Isakov, of provincial public service broadcaster RTV, Djordje Vlajic, of public service broadcaster RTS, Bishop Porfirije, of the broadcasting agency RRA, and Sasa Gajin, a media law specialist. The final versions of the draft media legislation, which were sent to Brussels, did not allow distributors/ operators to be content providers, according to Article 46 of the Law on Public Information and Media, while the controversial Article 109 was deleted.
After the public debate, and prior to adopting any law, Serbia, as an EU candidate country, is obliged to send a draft law to Brussels-based DG Enlargement Unit of the European Commission through the country's Office for EU integration. Once comments on the draft legislation are received from Brussels, the revised draft can go for adoption by the government and the parliament.
U.S. investment
Around the same time, on September 16, 2013, Adria News Ltd. was registered in Serbia, headquartered on Belgrade's Zoran Djindjic Boulevard at number 8a. Its main activity is television programming production and broadcasting. The founder and sole shareholder is company Adria News S.a.r.l., based in Luxembourg. The company is actually N1 TV, CNN's affiliate in the Balkans, powered by United Group (SBB/Telemach).
On October 15, 2013, private equity fund KKR, based in New York, acquired United Group from another private equity, Mid Europa, which tripled its money on the sale. EBRD remained the minority shareholder. This is KKR's first direct investment in Southeast Europe.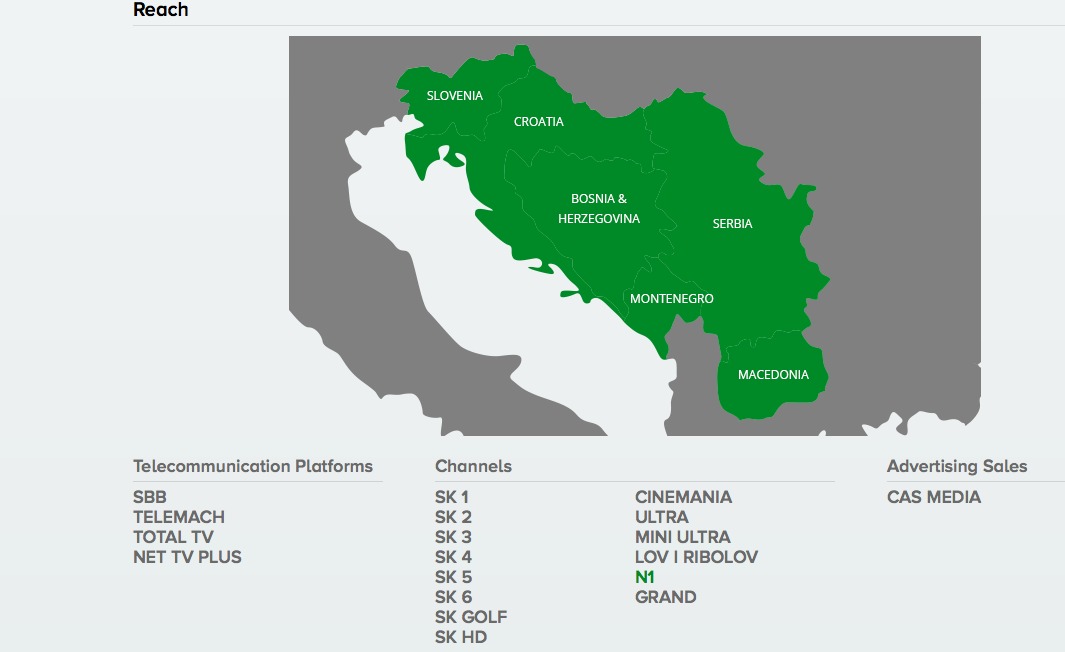 A few months earlier, in January 2013, former U.S. Ambassador to Serbia, Cameron Munter, began working as a senior advisor to the SBB-Telemach Group's Board of Directors.
As is always the case with foreign investments, this one also had to go through the embassy. David Krzywda, Economic Counsellor at the U.S.Embassy in Belgrade, said that the governments of the United States and Serbia shared a common interest in encouraging an attractive business environment and encouraging foreign investment in Serbia, including increased investment by U.S. companies in the country.
"In the case of KKR, the Embassy ensured that its advocacy was in keeping with the United States' interest in supporting Serbia's advancement toward the European Union, and in particular that Serbia's investment climate was attractive and in harmony with European Union standards on media freedom and plurality," said Krzywda.
No doubt this appeared to be a good investment from the business perspective. Operating under the SBB and Telemach brands, United Group serves about 1.89 million cable and satellite TV, broadband, fixed and mobile customers across six markets of the former Yugoslavia (Serbia, Slovenia, Bosnia-Herzegovina, Montenegro, Croatia and Macedonia), with a combined population of over 20 million. Statistics show that about 60 per cent of people in Serbia watch TV exclusively through cable. The total number of cable TV users in Serbia stands at 1.44 million, while this market continues to grow. According to 2013 data from Serbia's RATEL (The Agency for Electronic Communication), more than half of users, almost 800,000, are clients of SBB.
Henrik Kraft, head of KKR's telecoms and technology investment team in Europe, described the new investment for Financial Times in October 2013 by saying that "their operations are as modern and sophisticated as in western markets, but the company is operating in a market with a low penetration of broadband and pay-TV services."
"We've seen that story develop in western markets. There's a lot of growth potential," Kraft added.
Extensive lobbying
N1 vis-a-vis Al Jazeera

 

The first region-wide TV news service since the 1990s, when Yugoslavia dissolved, was Al Jazeera Balkans, which launched its broadcasts in November 2011 in the main languages of the former Yugoslavia.

 

The station's headquarters is in Sarajevo, Bosnia-Herzegovina, but it is also covering Croatia, Serbia, Slovenia, Macedonia, Montenegro and Kosovo. Al Jazeera is an independent broadcaster owned by the state of Qatar through the Qatar Media Corporation and headquartered in Doha.

 

The concept of N1 is similar. It is the CNN affiliate in the Balkans, covering all former Yugoslav countries, except Kosovo, with offices in Belgrade, Zagreb and Sarajevo.

 

Boro Kontic, Director of the Sarajevo Media Centre, believes that both television companies have not come as a result of perceived need or due to thorough analysis of the need for regional television.

 

Both stations have the same target audience, so mutual competition is expected. Kontic, however, does not expect dramatic changes to the media landscape in the coming period.

 

"There will be a quiet and underground conflict in which Al Jazeera has an advantage, because it is available to everyone [on cable] and has a bigger budget. On the side of N1 is a better team and a huge desire for success, but its major limitation is an employer who sees them as a horse in a short race, rather than a player with the ability to create an information channel available to everyone."
In order to realise its goals and launch N1, the company had to ensure media legislation was changed to enable distributors/operators to also be content providers.
It seems that there were three main fronts in the fight for this change. One was with David Petraeus, Chairman of the KKR Global Institute, the second one was in the public debate in Serbia and the third was through lobbying in Brussels.
Petraeus, a retired U.S. General and former director of the CIA, visited Belgrade twice, meeting all relevant media people in a bigger gathering at the residence of the U.S. Ambassador to Serbia, but also Serbian Prime Minister Aleksandar Vucic. In his second visit, on April 15, 2014, Vucic told Petraeus that KKR's first direct Balkan investment - new cross-border TV station, N1, - was welcome in Serbia, according to a statement from Vucic's cabinet.
The statement added that Petraeus told Vucic that KKR wished to increase its investment in Serbia and turn Belgrade into a centre for digitisation in the region. Attempts to get in touch with Petraeus drew a blank.
Another form of pressure was heard during thepublic debate. SBB was strongly pushing for changes to the draft Law on Electronic Media, insisting that Article 109 was too restrictive and citing practices in other EU countries allowing distributors/ operators to also be content providers of news programming.
Brent Sadler, N1 Director and a former award-winning journalist of CNN, went even further than SBB in autumn 2013, when he threatened to take the case to the European level if Belgrade refuses to back down.
This is exactly what happened. As Media Observatory has learned from several sources, United Group hired Brussels- based law firm Gide Loyrette Nouel to lobby at the European Commission for the changes to the laws that would enable content distributors/operators to also be content providers.
Media Observatory obtained a copy of a January 2014 letterto the European Commission from Benoit Le Bret, a partner at Gide, which stated that: "We remind you that there is no provision in EU law in the field of broadcasting that would impose mandatory separation between content producers and distributors. If such a restriction was adopted at the national level, it is very likely that it would be considered restrictive and disproportionate."
When asked by Media Observatory to comment on the advice he provided to the European Commission on behalf of the United Group, Le Bret said: "According to the rules of the bar, I cannot disclose or comment on any relationships with any client."
Numerous attempts to get a relevant comment from United Group on the issue drew a blank.
Media Observatory learned from several sources that EBRD, as a minority owner of United Group, also lobbied in Brussels for the changes to the laws, citing the same arguments as Gide.
When contacted by Media Observatory, Viktoria Melohina, Communications Advisor for the EBRD Press Team, said: "Unfortunately, we are not in a position to provide a comment on this story."
What happens in Brussels, stays in Brussels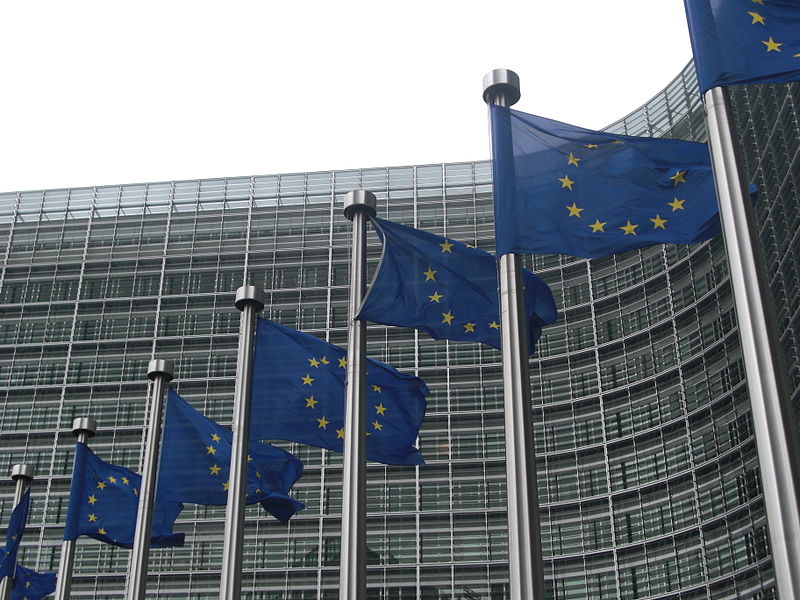 As a result of the lobbying activities, the DG Enlargement Unit sent the Law on Public Information and Media back to Serbia with a comment to revise Article 46 in order to allow content distributors/operators to produce content, albeit through an affiliated legal entity. Being on its EU integration path, the Serbian government unquestioningly accepted the Brussels' proposal for change of the controversial provision.
Such Brussels' comment to revise the articlecame as surprise, given that the Commission had applied different standards for the Serbian public service broadcaster, RTS, then for Croatia and Slovenia media laws.
In 2009, RTS was forced to separate its programme publishing activities and distribution activities (now operated by ETV).
Both Croatia and Slovenia, as EU member states, do not have this provision allowed for cable operators.
When asked whether the law firm and EBRD had contacted the Commission on the issue, Myriam Ferran, Head of the Serbia Unit at DG Enlargement of the European Commission, replied positively.
"The Commission is open to listen to the views of stakeholders on draft legislation to be adopted by Candidate Countries, as their views may draw the Commission's attention to possible inconsistencies with the acquis," Ferran added.
The Commission's rationale behind this was that no EU legal provision in the broadcasting sector imposes a mandatory separation between content producers and distributors.
"In this context, as far as the EU acquis is concerned, Serbia is thereby entitled to allow vertical integration of its content provider and distributor," Ferran concluded.
Regardless of different EU policies on the issue among different EU member states, the Serbian media practice to date does not leave room for optimism.
If you are a client of SBB cable, you do not have any of the four Arena Sport channels on offer that are owned by Telekom Srbija. If you have Telekom Srbija's Open IPTV, you do not have Sport Club in your offer that is an SBB channel. Moreover, B92 Info, a rival cable channel to N1, has been removed from SBB's basic cable package.
TIMELINE:

 

-

2002 –

Dragan Solak founded SBB, the leading cable operator in Serbia.

-

2007 -

Mid Europa acquired a controlling stake in SBB. European Bank for Reconstruction and Development (EBRD) is a co- investor in the company.

-

2009 -

Mid Europa bought Telemach Slovenia (the leading cable operator in Slovenia), and Telemach has since expanded into Bosnia and Herzegovina. 

-

January 2013 -

Cameron Munter started working as senior advisor to the SBB-Telemach Group Board of Directors.

-

September 2013 -

Adria News Ltd. got registered in Belgrade. Its main activity is production and broadcasting of television programme. The founder and the only shareholder is the company called Adria News S.a.r.l. based in Luxembourg.

-

October 2013 -

KKR bought United Group (SBB, Telemach, Total TV). The European Bank for Reconstruction and Development (EBRD) is a co-investor in the company.

-

February 2014 –

United Group bought majority share in Grand production (turbo-folk production house)

-

August 2014 –

Serbia adopts media legislation, which allows operators (distributors) to also act as content providers.

-

October 2014 –

N1 goes on air.
Potential consequences
This issue raises concerns about how the Serbian media market will look in the future if United Group abuses its position. Telecommunications companies in Serbia are financially stronger than media outlets, especially SBB, which has the backing of KKR, as one of the world's largest private equity companies, managing funds exceeding $50 billion.
Slobodan Kremenjak, an expert in media law, says that, on the positive side, it will be difficult to exert pressure on someone who is financially powerful. "On the other side, who can guarantee that the power will always be used in the public interest, not the interests of the KKR?" Kremenjak asked.
Djordje Krivokapic, head of the legal department at Share foundation, pointed to the conflict between two basic principles -- public interest in the field of information and the freedom of free enterprise. "As an operator with a significant market share, SBB has a very good negotiating position in relation to any distributor of media content and there is no equality in the talks," Krivokapic said.
Experts agree that the key question now is how strong and competent the country's regulatory bodies are to deal with these risks.  
The public is likely to end up paying the price for such legislation. University professor Stanko Crnobrnja reminded that SBB, as the country's largest cable operator, first bought the biggest entertainment production company in Serbia, Grand Production in February 2014, and then introduced news programming affiliated to CNN.
"Producing the highest rated entertainment and highly influential news, and controlling the distribution of all other content at the same time, seems to be a sure winner," says Crnobrnja.
According to him, not many players on the Serbian market will be able to confront this newly devised media powerhouse.
------------
Bojan Vucicevic also contributed to this article.
 
Media Integrity
Media Ownership and Finances